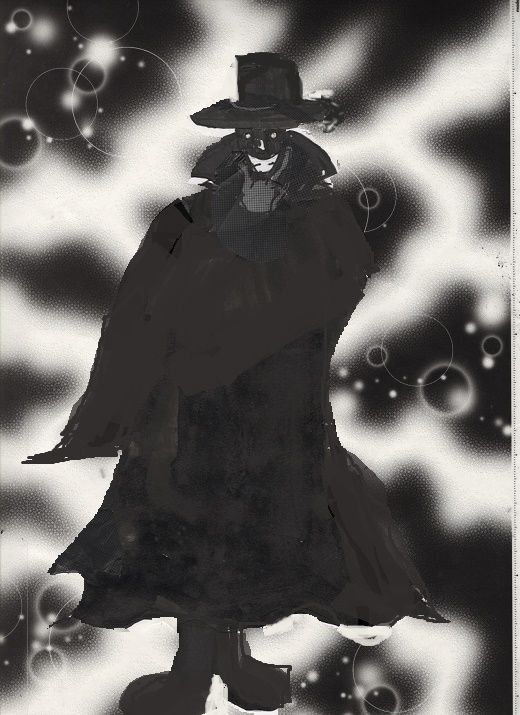 SAMPLE ARTWORK AND ART FOR SALE.
THIS PAGE SHOWCASES A VARIETY OF ARTISTIC COMMISSIONS AND PUBLICATIONS SO THAT I MAY SHOWCASE UNTO YOU, MY ONLY FRIENDS, THE VERSITILITY OF MY SKILLS. YOU NEED ONLY E-MAIL ME AT URBANALIEN@OUTLOOK.COM AND EXPLAIN TO ME WHAT YOU WOULD LIKE ILLUSTRATED, PAINTED, OR CHARCOAL RENDERED, OR EVEN INK/WASH RENDERED AND AT WHAT SIZE, AND WE'LL NEGOTIATE A MUTUALLY SATISFACTORY PRICE. ALSO ANYONE WHO FINDS A COMMISSION FOR ME WILL BE PAID A FINDER'S FEE; A PERCENTAGE OF WHAT I MAKE FROM SOLD ARTWORK. THE E-MAIL IS
URBANALIEN@OUTLOOK.COM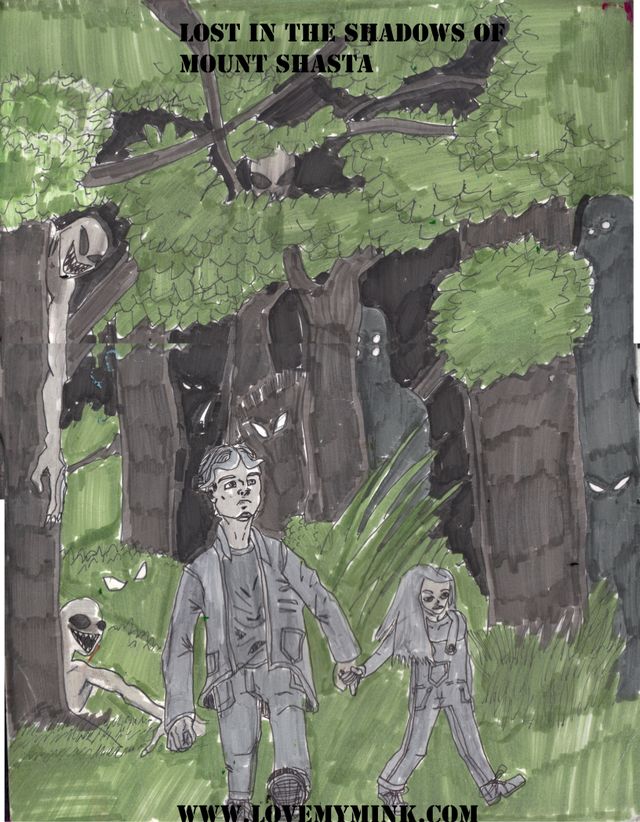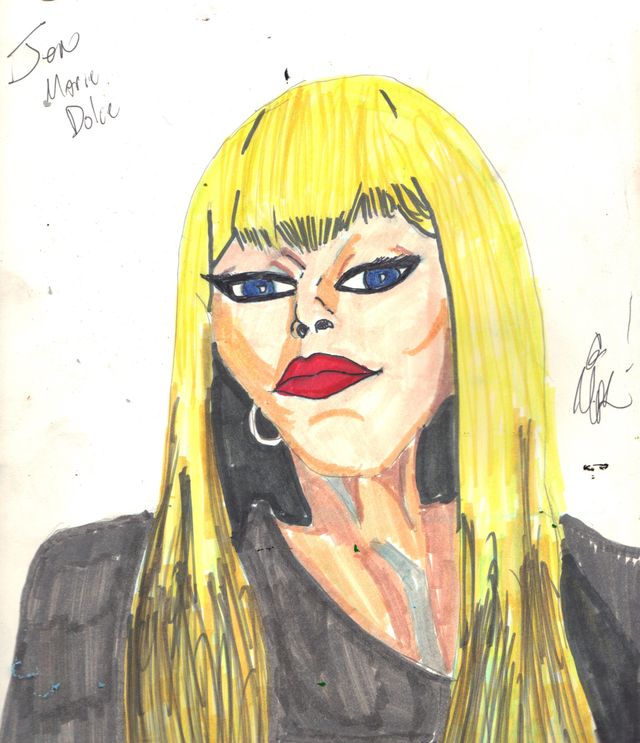 ARTWORK SOLD AND FOR SALE. CONTACT FOR COMMISSIONS.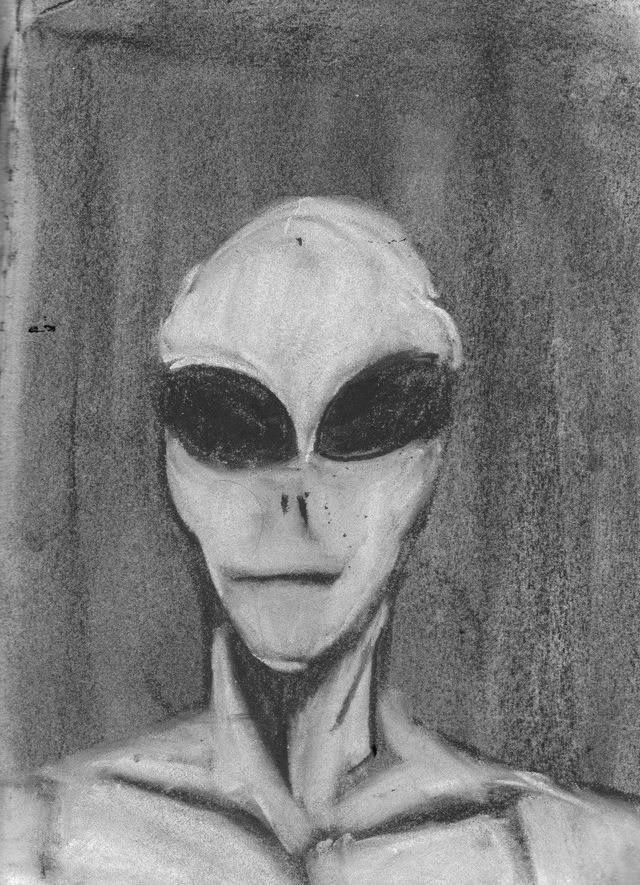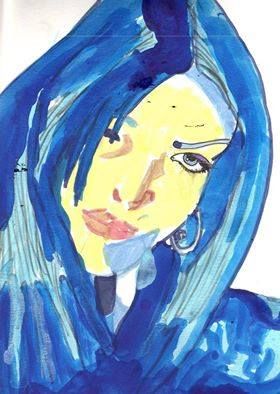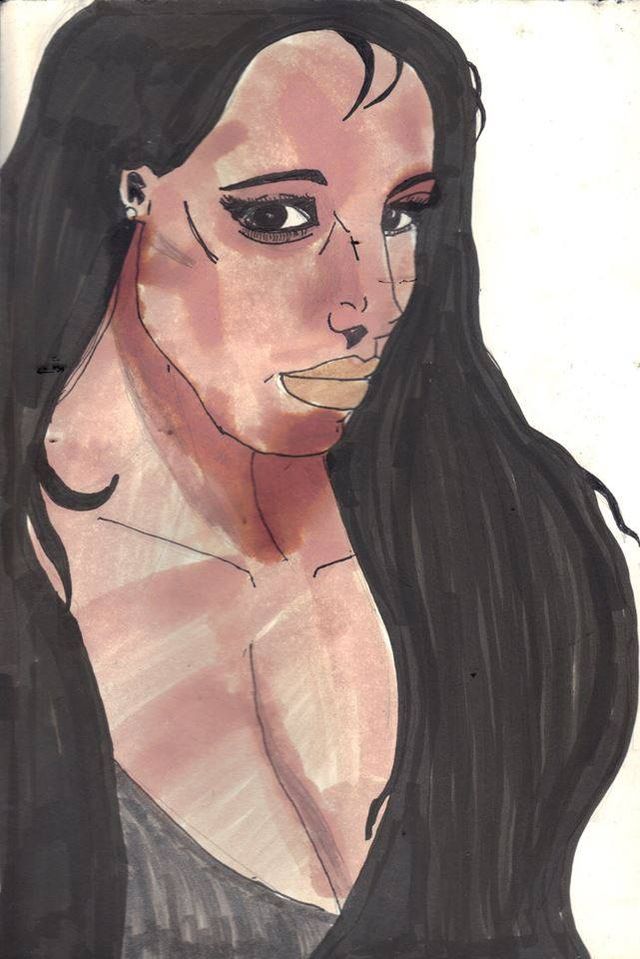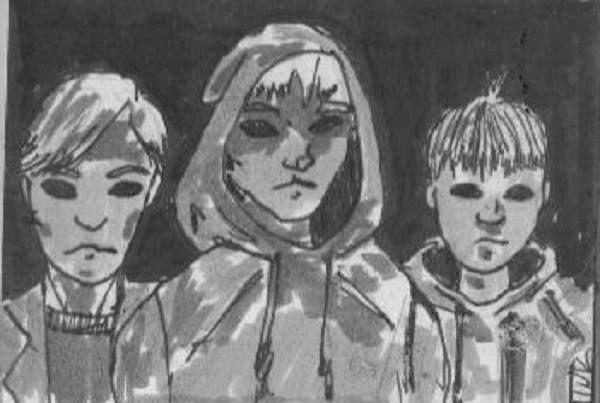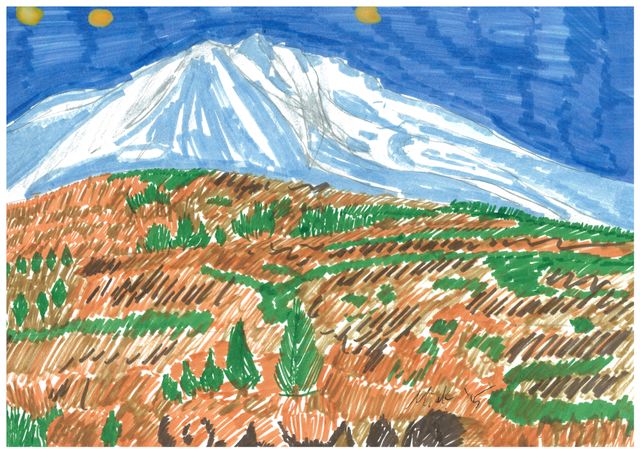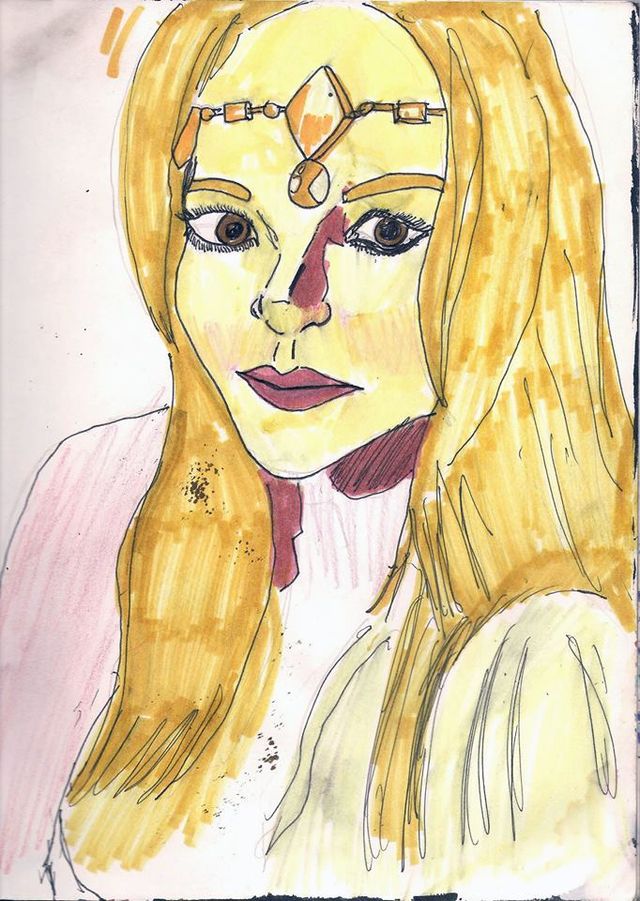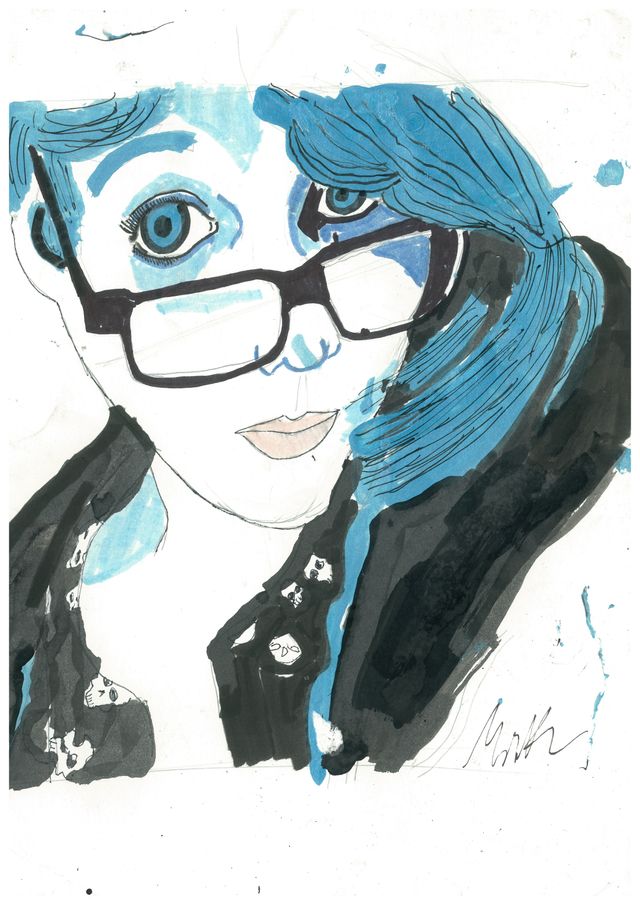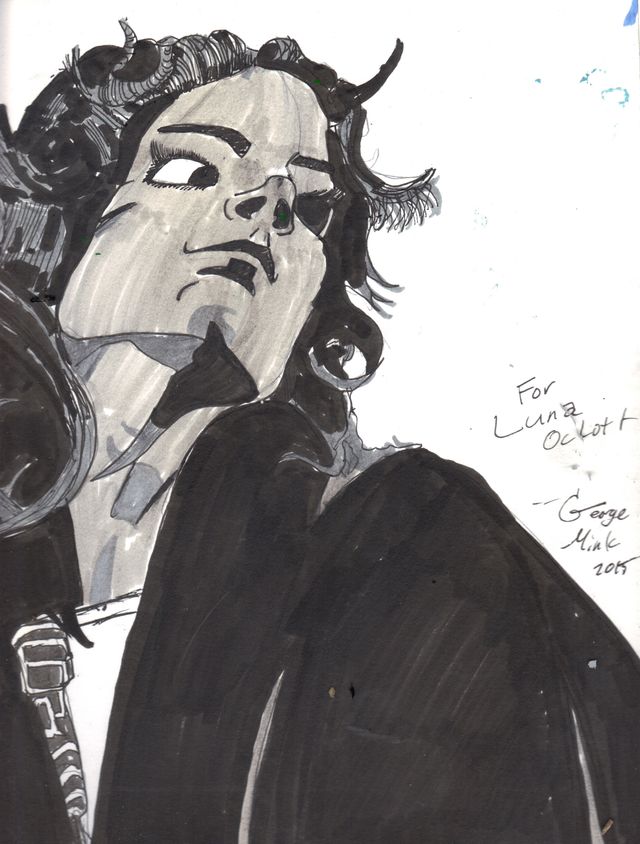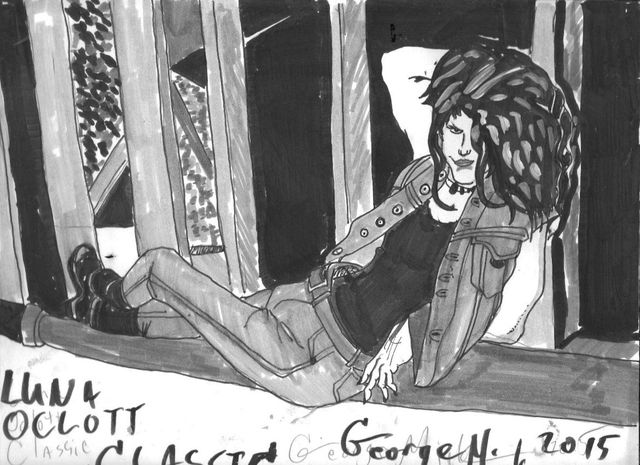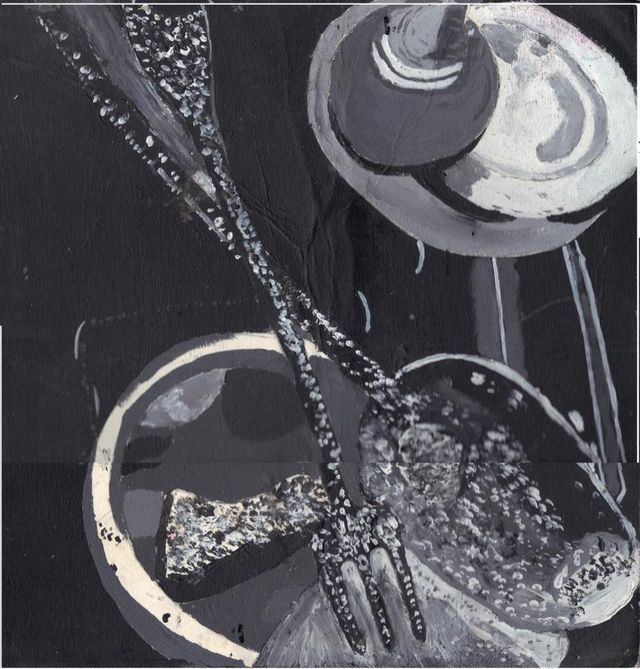 Acrylic on Board, apprx. ten by ten inches, incudes frame. For Sale.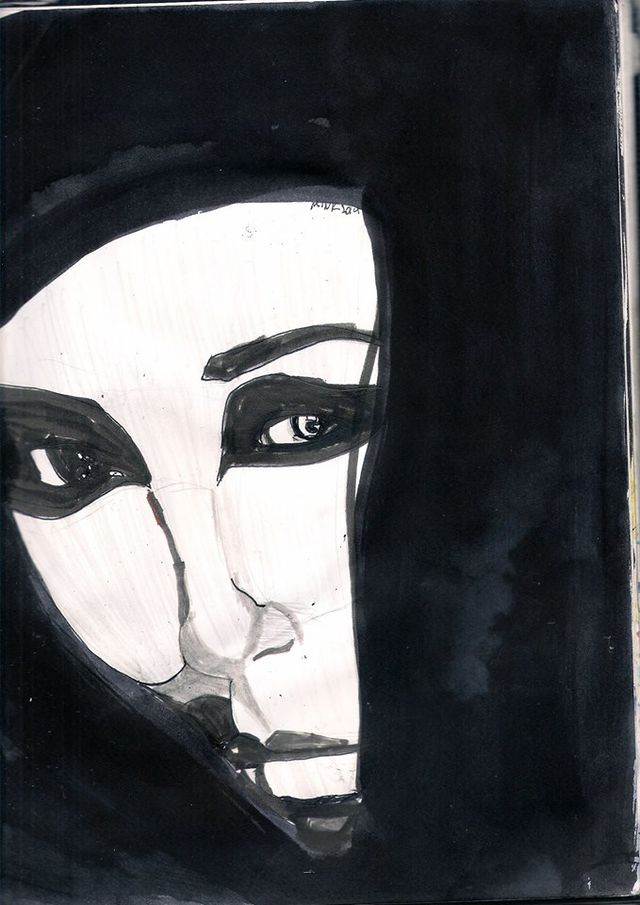 Work done by commission and sales via Lovemymink.com and my Facebook page or E-mail address: URBANALIEN@OUTLOOK.COM
george.mink1@facebook.com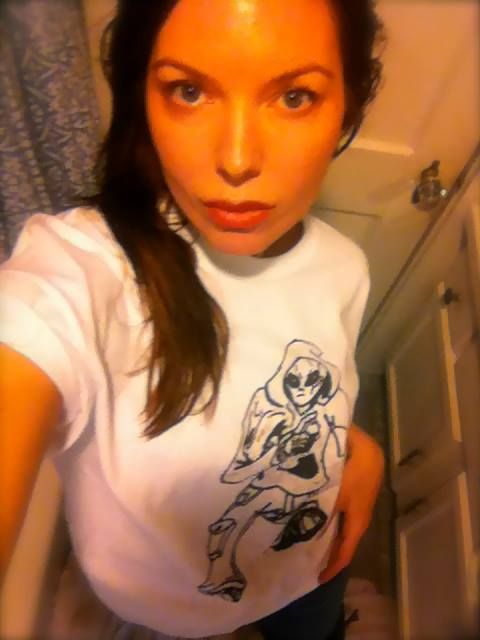 APRIL ROCKING THE URBAN ALIEN TEE SHIRT. STILL FOR SALE ON THIS WEBSITE!!!!!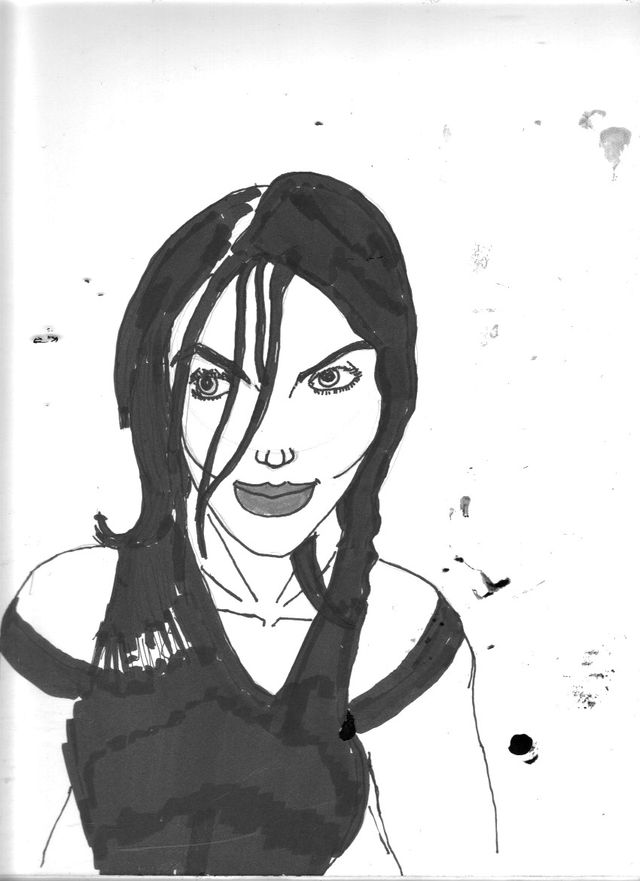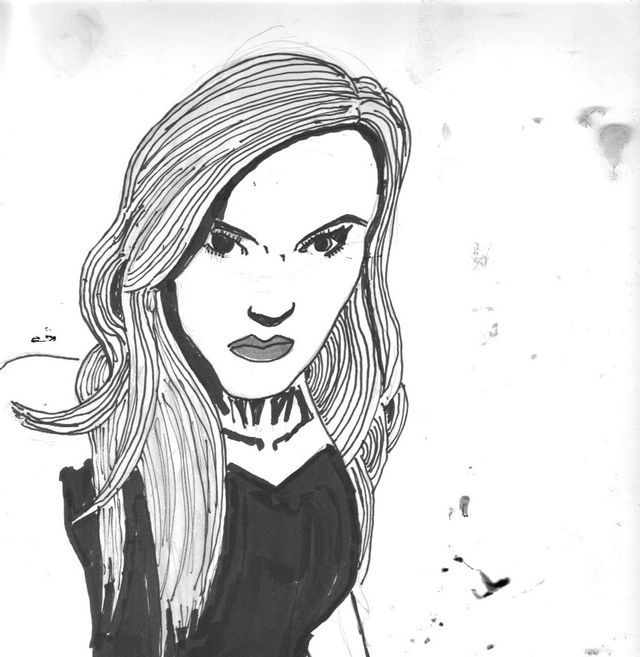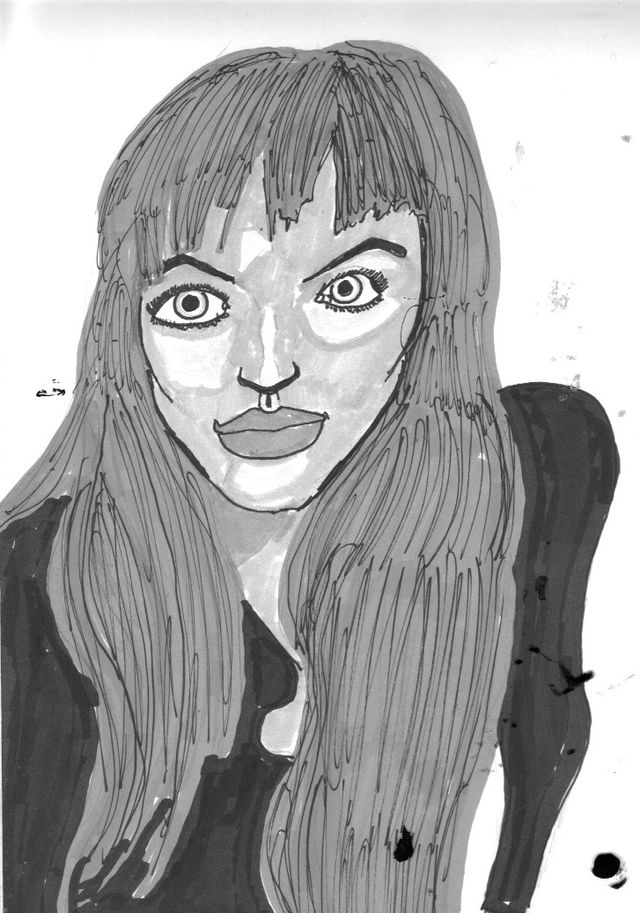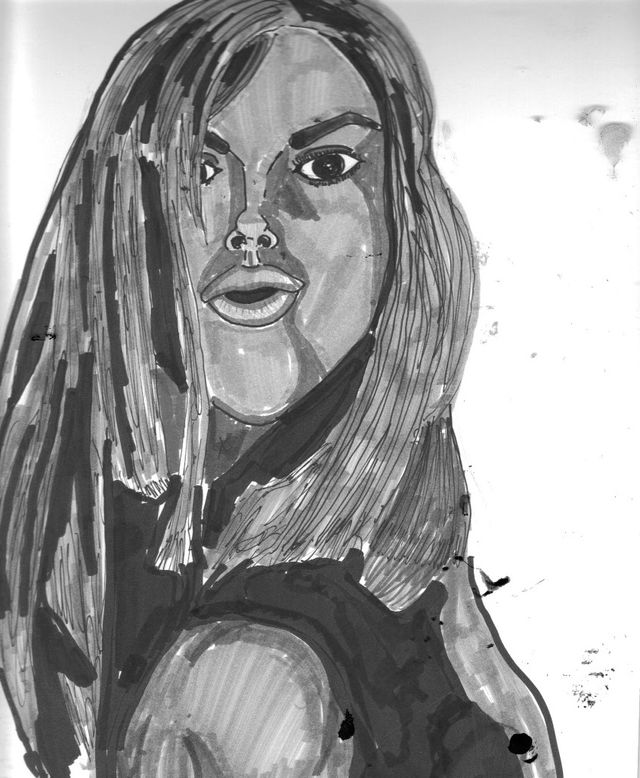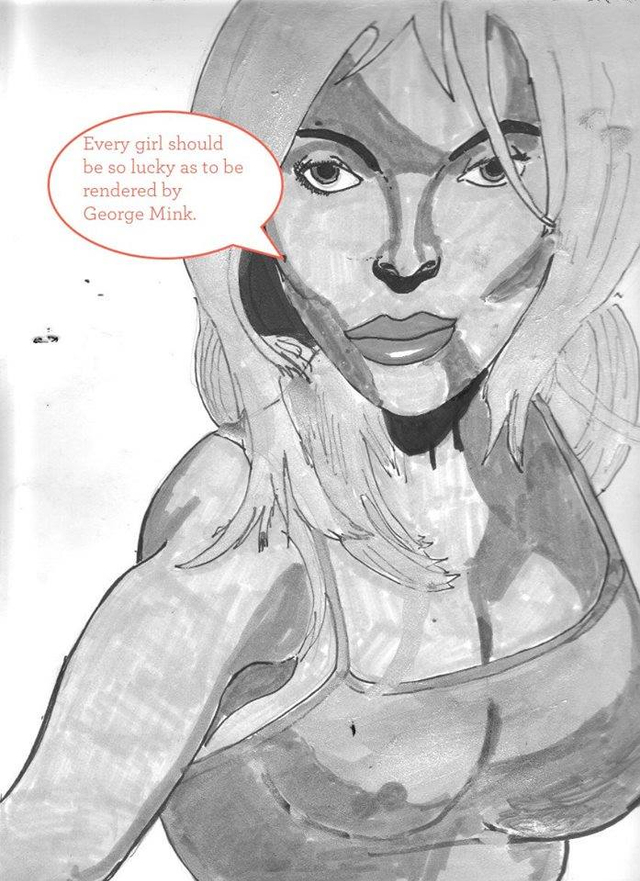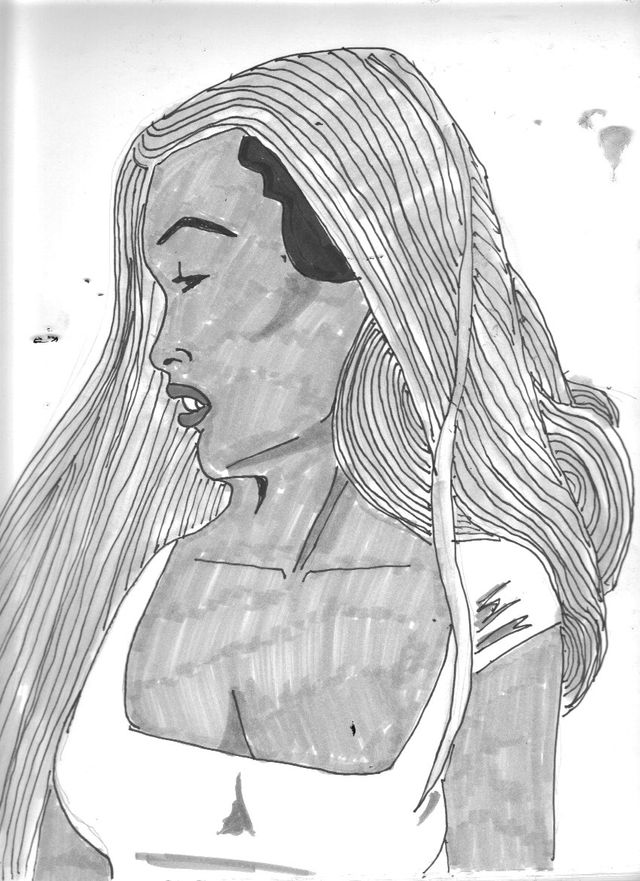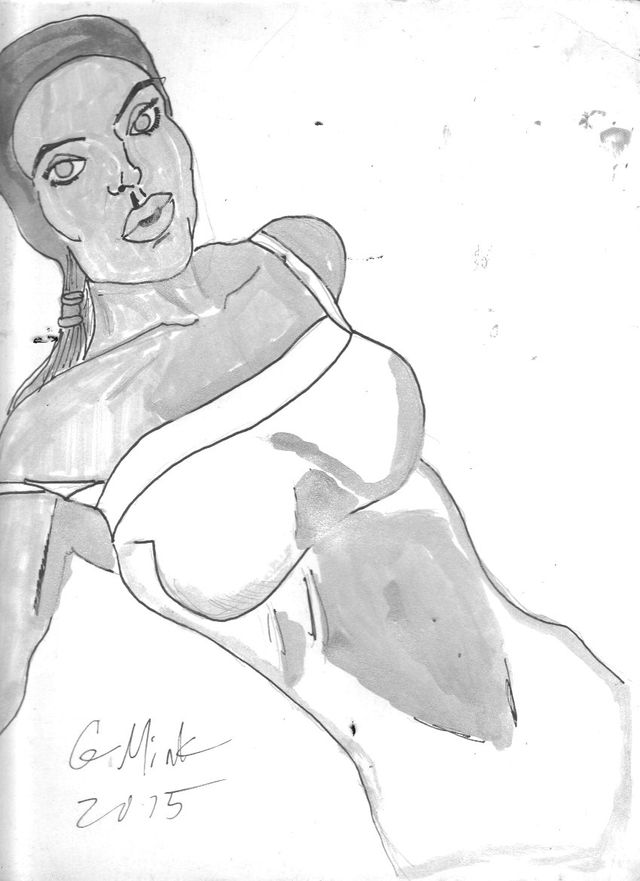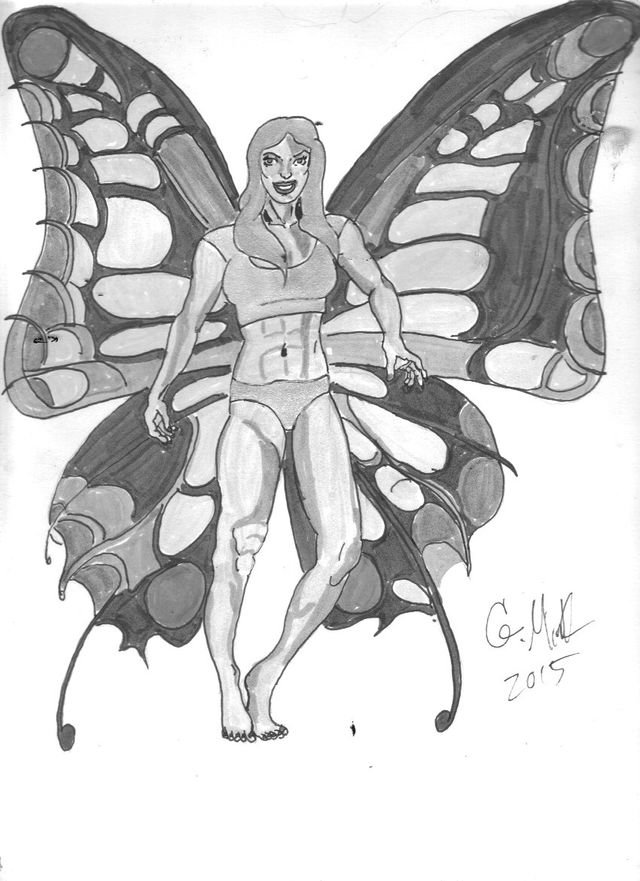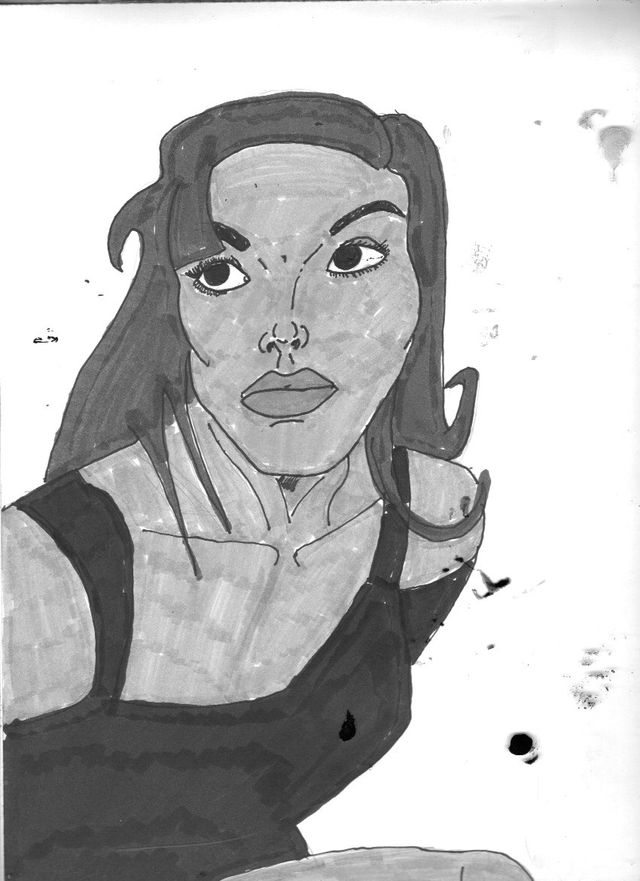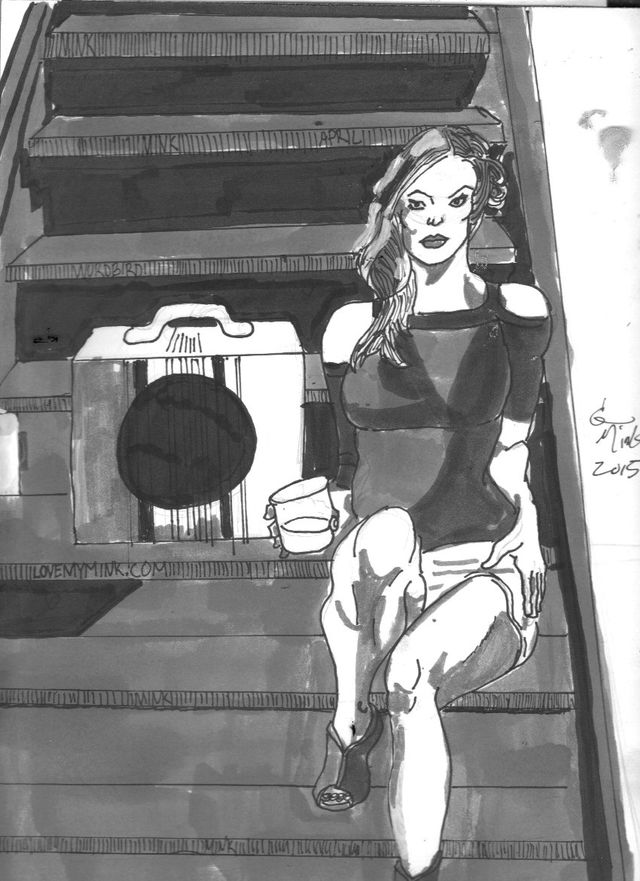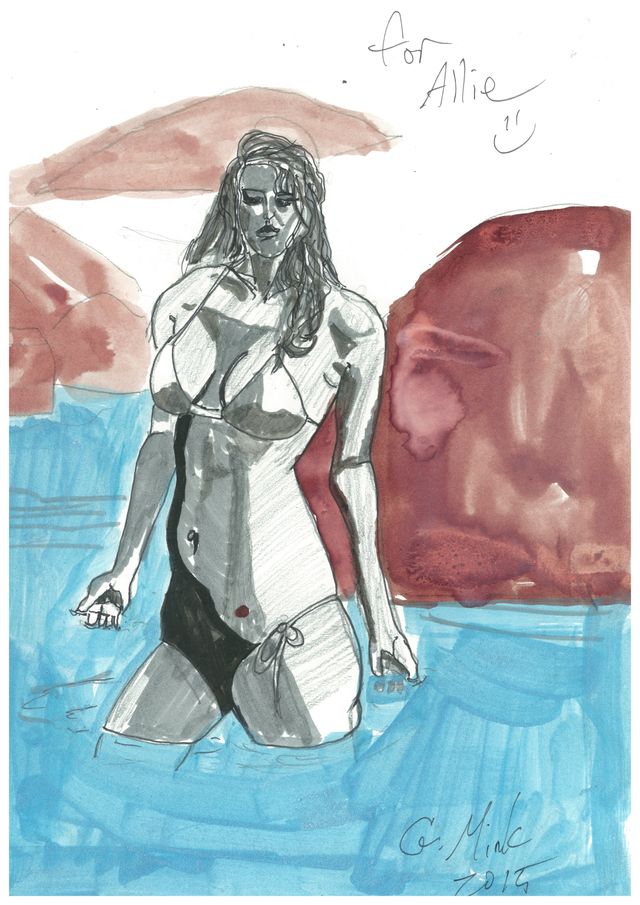 Pat's Eye. Close up portraits of your loved one's eyes available via commisssion. E-mail Urbanalien@Outlook.com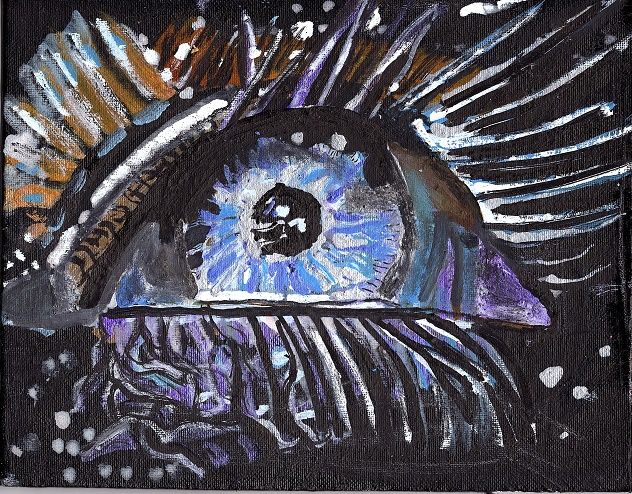 PLEASE CLICK ON THE LINK ABOVE. AS MOTHER'S DAY IS APPROACHING AS WELL AS COUNTLESS BIRTHDAYS, WEDGEWOOD HAS THE FINEST POTTERY AND HAS HAD SO FOR WELL OVER THE PAST 100 YEARS. CLICK THE LINK ABOVE AND GIVE MY SPONSORS A PLAY.
TO THE LEFT IS AN ILLUSTRATION INCLUDED IN "THE COMPLEAT MINK" ONE SHOT PUBLISHED BY ALAN SISSOM. THE STORY FEATURED A PAIR OF CHILDREN LOST IN THE SHADOW OF MOUNT SHASTA, WHERE THEY ENCOUNTERED MORE HIGH STRANGENESS THAN THEIR FREE YOUNG MINDS COULD COMPREHEND. I WILL NOT TELL YOU WHETHER OR NOT THEY ESCAPED OR MET AN UNTIMELY END, STALKED BY ELVES, FAIRIES, ELEMENTALS, AND LIVING TREES AND MOUNTAINS, AS I INTEND TO REPUBLISH AND REILLUSTRATE THE TALE VIA KINDLE/AMAZON. EVERY DONATION AND COMMISSION WILL HELP EXPEDITE THAT RE-TELLING.
THIS LOVELY BEAUTY IS THE WIFE OF ONE OF MY CLOSEST FRIENDS. THEIR BOTH BEING FRIENDS AS WELL AS LONG TIME SUPPORTERS OF MY AMBITIONS COMMISSIONED QUITE A FEW PORTRAITS DURING BIRTHDAYS AND ANNIVERSARIES, AND THE OCCASIONAL "HEY I LOVE YOU" UNEXPECTED GIFT. I KNOW FOR A FACT MANY OF THE MEN OUT THERE WOULD BE SURPRISED HOW FAR A SMALL GESTURE SUCH AS A PHOTO-REASLISTIC RENDERING LIKE THAT WHICH YOU SEE TO THE LEFT HERE GOES IN LETTING YOUR BETTER HALF KNOW HOW MUCH YOU THINK AND CARE FOR HER(OR HIM, IF YOU'RE THE WIFE, BUT GUYS GENERALLY DON'T APPRECIATE SHIT YOU DO, NOW DO THEY? PROVE THEM WORNG, MEN!
CHARCOAL RENDERING OF GREY ALIEN
DOUBLE ALAS WITH THIS COMMISSION. NOT ONLY HAVE I FORGOTTEN THIS YOUNG WOMAN'S NAME, BUT THE SADISTIC PSYCHOPATH KNOWN AS NICHOLAS GABRIEL STOLE THIS ALONG WITH MY ENTIRE PORTFOLIO. THE SAME OCCURED WITH THE GORGOUS AMY IN THE WASH PIC BELOW. A PITY AS THIS PAINTING I HAD DONE AS THE GIRL WAS DEPRESSED, AND I MERELY WANTED TO CHEER HER UP. I SUCCEEDED IN THAT, BUT SADLY SHE NEVER RECIEVED THE ORIGINAL WORK, WHICH IS METALIC INK, AND ACRYLICS ON BRISTOL BOARD.
AMY!!!!!!
THE EVER BEAUTIFUL "AMY." A WOMAN WITH A HEART OF GOLD, MATURE, AND THE FURTHEST THING FROM A JERSEY SHORE WATCHING MORON YOU'LL EVER MEET. SO TAKE A COLD SHOWER, AS THIS PHOTO-REALISTIC INK-WASH PAINTING DOES HER FLAWLESS JUSTICE. I AM PARTICUARLY FOND OF USING THE WASH TO CAPTURE THIS PARTICULAR FLESH TONE, AND DESPITE THIS PAINTING BEING A FEW YEARS OLD, I NEVER GET TIRED OF LOOKING AT IT. PITY NICK GABRIEL STOLE THIS AS WELL WHEN HE LIFTED MY PORTFOLIO. WELL, AS JOHNNY CASH SAID ABOUT SUCH FOLK....
PARANORMAL TRADING CARDS. THIS IS BUT ONE OF A 25 SET, EACH CARD FEATURING A DIFFERENT PARANORMAL ENTITY OR CRYPTID. THE BLACK EYED CHILDREN ARE FEATURED HERE, ACRYLIC INK ON BRISTOL. THE SIZE OF THE CARDS ARE EQUAL TO THAT OF A TYPICAL BASEBALL CARD, YOU CAN ORDER A SET OF 20 FOR 25 DOLLARS, OR YOU CAN BUY THEM SINGULAR AT 2.00 EACH. EACH CARD IS RENDERED PERSONALLY BY MYSELF WITH ACRYLIC INK AND BRUSHES ON BRISTOL BOARD CARDS. YOU CAN ALSO COMMISSION YOUR OWN TRADING CARDS FEATURING WHATEVER SUBJECT MATTER YOUR HEAR DESIRES. SAME DEAL, YOU CAN ORDER ANY NUMBER OF CARDS AT 2 DOLLARS A PIECE, THE MORE CARDS YOU ORDER THE LOWER THE TOTAL PRICE GETS.
MOUNT SHASTA WITH LUMINESCENT ORBS CIRCLING THE SKY ABOVE THE SUMMIT. THIS WAS ALSO ILLUSTRATED FOR THE "MISSING IN THE SHADOW OF MOUNT SHASTA STORY IN THE "COMPEAT MINK" ONE-SHOT, ALBEIT IN MONOCHROME. I HAVE NOT TRUE INTENTION OF SELLING THIS PIECE, BUT IF YOU WANT A PAINTING OF MOUNT SHASTA, DROP ME A LINE WITH THE SIZE AND MEDIA(INK, PAINT, PASTELLES) YOU'D LIKE IT DONE IN AND WE'LL NEGOTIATE A PRICE.
The gorgeous and quick witted "Anarchy Girl." Give a listen to her radio show by searching Lauren Young Anarchy Girl on your search engine of preference. This piece I'd done exclusively for her out of the kindness of my heart, though I foolishly got the color of her eyes wrong.
ANOTHER YOUNG WOMAN WHO HAD BEEN GOING THROUGH SOME ROUGH TIMES. BEING WHO I AM I SPOKE WITH HER TO DISCOURAGE HER FROM DOING ANYTHING FOOLISH OR LIFE THREATENING, AS WELL AS USED MY FAVORITE METALLIC INKS TO PAINT HER PORTRAIT. IT SEEMED TO WORK AS SHE DID IN FACT GRADUATE HIGH SCHOOL AND IS THUS FAR LIVING HAPPILY EVER AFTER. PERHAPS YOU KNOW A SIMILAR PERSON WHO COULD USE SIMILAR ENCOURAGEMENT. WELL I'M FOR HIRE TO HELP YOU DO THAT AS WELL. CONTACT ME AND WE'LL DISCUSS PRICE.
THESE TWO MONOCHROME INDIA INK WASH PORTRAITS
WERE COMMISSIONED BY A LOVELY WOMAN FROM THE PACIFIC NORTHWEST. I DON'T HAVE THESE FOR SALE, AS SHE COMMISSIONED AND PAID FOR THEM, AND THUS, I MAILED THEM TO HER. SOMETHING REWARDING ABOUT MAKING A BOARDERLINE SENIOR-CITIZEN WHOSE STILL FULL OF LIFE AND VIGOR HAPPY WITH PORTRAITS OF THEMSELVES THIRTY YEARS IN THE PAST. MAKES ME WISH I WERE A TEENAGER IN 1980.
TO COMMISION SIMILAR PORTRAITS CLICK ADD TO CART AND DESCRIBE THAT WHICH YOU WANT.
BEHOLD, THE BEAUTIFUL AND TALENTED APRIL WORDBIRD OF THE BAND TASMANIAN ANGEL!!!! MRS. WORDBIRD COMMISSIONED A GOOD DEAL OF ARTWORK TO PROMOTE HER OWN ARTWORK, AND IT WAS A JOB I TOOK MORE THAN SERIOUSLY. ADMITTEDLY TWO OF THE TEN PLUS ILLUSTRATIONS I SENT HER COULD HAVE BEEN ALOT BETTER, I KNOW SHE RECIEVED TOP NOTCH WORK IN FULL COLOR(SADLY WHEN I UPLOADED THESE THE COLOR FEATURE ON MY PRINTER WAS MALFUNCTIONING, ERGO APRIL HAS ALL OF THE ORIGINAL ARTWORK, AS WELL SHE SHOULD AS SHE PAID FOR THEM. AS A COURTASY I SENT HER AN URBAN ALIEN T-SHIRT, AND THERE SHE IS FEATURING IT. I'D LIKE TO MAKE MORE URBAN ALIEN TEE'S THOUGH IN SMALLER SIZES, AND I NEED THE HELP OF MY PATRONS IN ORDER TO DO SO. DONATE OR COMMISSION ARTWORK. ARE YOU A MUSICIAN? IT DOESN'T MATTER WHAT THE GENRE OF MUSIC YOU WORK IN HAPPENS TO BE, IT ONLY MATTERS THAT I CAN CAPTURE THE SOUND AND MEANING OF YOUR MUSIC VIA VISUAL ART. IF YOU WOULD LIKE TO COMMISSION ARTWORK FOR ANY KIND OF ADVERTISING PURPOPSES, E-MAIL ME AT URBANALIEN@OUTLOOK.COM, EXPLAINING PRECISELY WHAT YOU WANT, AND WE'LL NEGOTIATE FROM THERE. IF YOU'D LIKE TO HEAR THE BEAUTIFUL SOUNDS OF THE BEAUTIFUL TASMANIAN ANGEL, CLICK THE ATTATCHED LINKS.
THIS IS MODEL ALISON OLIVIA, AN OLD FRIEND. AS SHE SOUGHT MODELLING GIGS, SHE DECIDED TO THROW IN PORTRAITS AS WELL AS PHOTOGRAPHIC MATERIAL TO GET EXTRA ATTENTION. IT WORKED.