The Urban Alien Comic strips
Six page teaser featuring the Origin of the Urban Alien.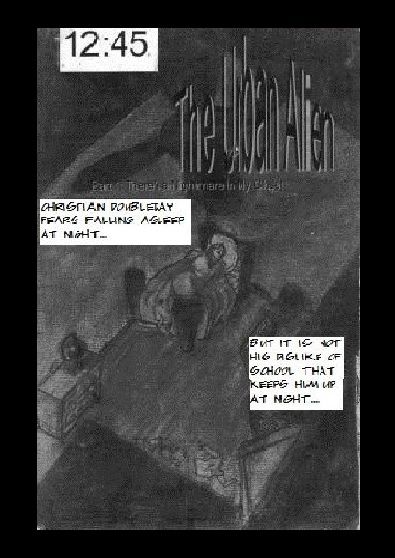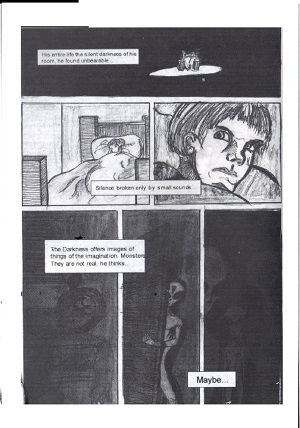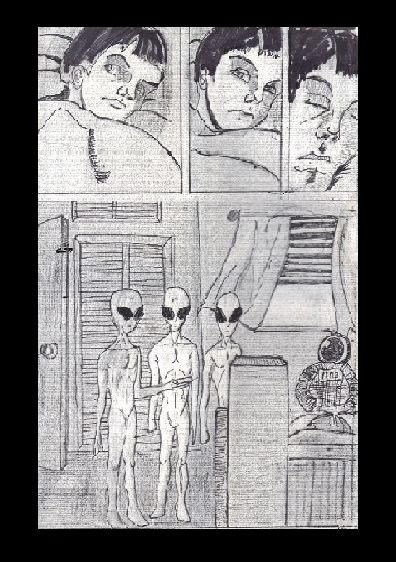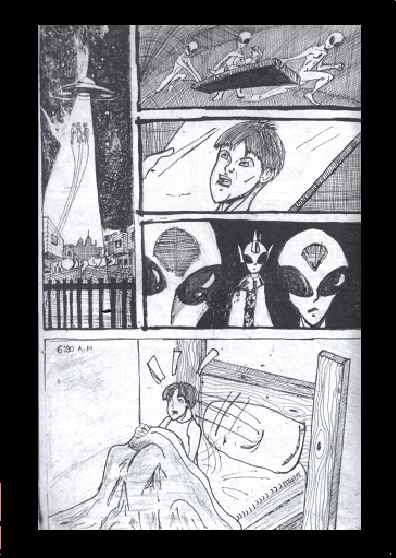 IT IS THE YEAR 2017 AND LOVEMYMINK.COM IS NOW 4 YEARS OLD. WITHIN THE NEXT MONTH AND A HALF YOU WILL BE ABLE TO PURCHASE URBAN ALIEN, AND OTHER HIGH STRANGNESS COMIC BOOKS VIA AMAZON FOR YOUR KINDLE READING, WHICH WILL SUBSEQUENTLY LEAD TO PAPERBACK COMIC BOOKS FOR THOSE OF YOU LIKE MYSELF, WHO ENJOY HOLDING A BOOK IN THEIR HANDS. IN THE MEANWHILE PLEASE ENTERTAIN MY PAETRON PAGE(LINK ON MAIN PAGE) AS WELL AS THE NEW ARTWORK THAT I SHALL BE DISPLAYING HER AT LOVEMYMINK.COM UNTIL THE SITE REACHES IT'S 5TH ANNIVERSARY. --GEORGE MINKIII
CHRISTIAN DOUBLEDAY IS SCARCELY ONE MONTH FROM TURNING 13 YEARS OLD. DESPITE HIS IMPENDING ADOLESCENCE, HE STILL SUFFERS PERPETUAL FEAR OF THE DARK. CHRISTIAN STILL SEES MONSTERS DISGUISED AS YESTERDAYS CLOTHING PILED ATOP HIS HAMPER, AND DISGUISED HAS HIS GOLBE....A GLOBE WHICH HE COULD LIGHT UP, LUMINATING HIS BEDROOM A SOOTHING BLUE HUE, BUT HE IS TO TERRIFIED TO SHIFT. HIS SCHOOL COUNCILOR TOLD HIM THIS WAS CALLED "SLEEP PARALYSIS, BUT CHRIS KNOWS BETTER. CHRIS KNOWS HE IS NOT PHYSICALLY INCAPABLE OF MOVING, BUT RATHER SO FRIGHTENED OF WHAT HAS BEEN LURKING IN THE SILENT DARK OF NIGHT HIS ENTIRE LIFE THAT HE KNOWS THE SLIGHTEST SHIFT WILL ALERT THE "MONSTERS" OF HIS LUCIDITY AND TAKE HIM AWAY.
CHRISTIAN, AS PER USUAL DOES NOT FALL ASLEEP UNTIL WELL AFTER MIDNIGHT, AND THAT'S WHEN HIS FEARS COME FOR HIM. WHEN HE IS UNAWARE......
THE MOMENT CHRISTIAN IS ASLEEP THEY MANIFEST IN BRILLIANT BLUE LIGHT. THREE GREY TO COBALT BLUE COLORED ENTITIES WITH SPINDLY BODIES, LARGE HEADS, AND GIANT INKY BLACK EYES.
SINCE CHRISTIAN WAS OLD ENOUGH TO BE CAPABLE OF REMEMBERING, HE HAD ALWAYS HAD FLASHES OF DREAMS HE COULD NOT QUITE REMEMBER. HE COULD ALWAYS REMEMBER THE FEAR THE DREAMS EVOKED, BUT NEVER ANY OF THE DETAILS.
HOWEVER, NOW CHRISTIAN IS ENTERING PUBERTY, AND THE UNEXPCTED HAPPENS....HE AWAKENS UPON A GURNEY BEING RUSHED DOWN A CURVED, YET SOMEHOW STILL RIGHT ANGLED CORRIDOR BY THREE ENTITIES, WHICH HE RECOGNIZES AS SPACE ALIENS FROM MANY A TELEVISION DOCUMENTARY. HIS ATTEMPTS TO DEMAND RELEASE ARE MET WITH HIS HAVING NO SOUND EMITTING FROM HIS MOUTH, AS THE CREATURE'S EYES GAZE DEEP INTO HIS SOUL, SEEMINGLY CONTROLLING HIS REACTIONS. SUDDENLY CHRISTIAN AWAKENS 6 HOURS LATER, UNSURE IF WHAT HE HAD JUST SEEN WAS REAL, OR MERELY A VERY VERY REALISTIC DREAM. HE KNOWS IT FELT REAL.